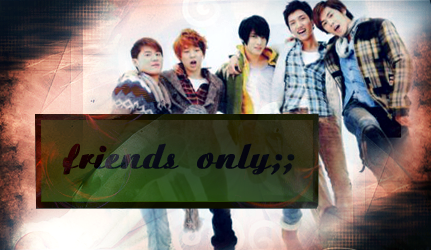 This journal is semi friends-locked. Please comment to be added; do not add me before you've talked to me or posted in this entry. Just post a brief introduction about yourself and your interests; isn't a hard task to do, ne?

What will be locked? My rants (blog) will be locked. My works (fanfictions, poem and graphics) will be open.

Anyway, it's only fair that I tell you about my interests first. So, here are my current interests list: TVXQ!, Kwon BoA, CSJH The Grace, Wonder Girls, Big Bang, Super Junior, SHINee, Lee Joon Ki, Erika Sawajiri, Lee Yeon Hee, Bae Seul Gi, YUI, Avril Lavigne.

The last thing, I want to make sure that you know my first OTP is Jaejoong/Boa so that you wouldn't be surprised if you see many of my stories feature them. Also, I like other pairings: Jaejoong/Jiyeon(Lina The Grace), Hankyung/Yeonhee, Jaejoong/Riin, Junsu/Riin, Yunho/Byokyung(Stephanie The Grace), Yunho/Jin Bora(Sunday The Grace). That's all.
Current Mood:
sleepy
Current Music: THSK - Tea For Two